Phone Support / Tele-Call Center Service – Perfect Customer Service partner for Small and Medium sized businesses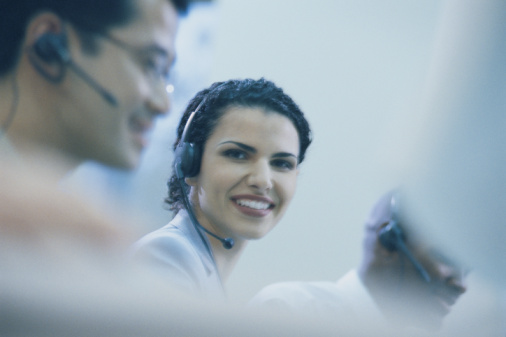 We offer voice support service through a web based voice solution known as? Click to call? That supplies the same capabilities and queue placement features as a high-end telephone system, without expensive hardware investments and maintenance fees.
When customers enter their telephone number to click to talk, Click to call automatically routes the request to the agent and as soon as an agent accepts the request, the call is placed, connecting the customer and agent immediately. It eliminates frustrating wait times, busy signals and annoying IVR loops by bypassing traditional phone lines. Real-time queue placement indicators with Click to call display accurate wait times online so visitors know exactly when to expect the call from our agent. Also, it allows your overseas prospects and customers speak with our agents, free of international long distance charge.
Leveraging this unique feature our agents can follow your website visitors through their online session even during the telephone calls. They can co browse with your visitors to help complete on line forms for push a web page directing visitors to the precise information they're seeking.
We can offer you a combination of live chat and Click to call wherein our agents escalate visitor from chat to voice to close high-value sales or resolve complex service issues. Our Click to call solution offers an excellent cost effective alternative to expensive 1-800 calls, while promoting increase traffic to your website.
All our agents must successfully complete a rigorous and accent neutralization program and successfully pass a voice proficiency test prior to proceeding to a through and focused training specific to your business and products. Additional ongoing training is often required and is completed quarterly.
We have dedicated quality assurance process consisting of real time daily monitoring of each agent's sales and customer service performance. Transcripts of all chats can be sent for your review or as confirmation that queries are answered correctly.
We have the ability to provide local telephone number (which will be routed to our operations center in India) in most major countries including the United States, Canada, United Kingdom, France, Austria, France, Spain, Italy, Belgium, Ireland, Germany, Sweden, Israel, Switzerland and many more countries.
Our call center services include:
Customer Support
Order Taking
Payment Verification
Information Delivery
Message Taking
Tele-marketing campaigns